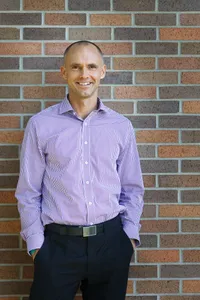 Dr. Kent Miskimen graduated with honors from Palmer College of Chiropractic in October 2002.
He worked his way through UNI, earning a Bachelor of Arts degree in Business and then went on to Palmer College of Chiropractic in Davenport, Iowa. Upon completion of Palmer, where he graduated Magna Cum Laude and as a Presidential Scholar, he and his wife, Shelley, decided to move back to Cedar Rapids to raise their family in the same town where they were raised.
Dr. Kent Miskimen uses a "whole person approach" when taking care of his patients. By combining the chiropractic, state of the art physiotherapy procedures, and diet and exercise counsel, Dr. Kent is able to help you to accelerate and/or maintain your journey to good health.
In addition to chiropractic, Dr. Kent is certified in Acupuncture and Dry Needling. He is also available to recommend nutritional and lifestyle advice depending upon the conditions of the individual, as well as prehab and rehab techniques to help stabilize the spine as the patient regains their health and to prevent injury.
Dr. Kent believes that each case is unique and would like the opportunity to meet with you specifically to discuss your specific health needs.
Please call our office today to set up an appointment to speak to him about maintaining good health or begin the journey to a healthier lifestyle.
319-261-1999
[email protected]