Welcome to River Valley Chiropractic
'Every human being is the author
of his own health or disease'
-Buddha
We aim to educate our patients about what true health and wellness actually is, and how you can better achieve and maintain a high quality of life with chiropractic, diet and lifestyle. We strive to educate our community about the benefits of Chiropractic and other natural solutions to common health problems. We believe our purpose as your health care provider is to not only address your immediate concerns, but to help educate you and motivate you to take a more active role in restoring and maintaining your own health as well as the health of your family those around you.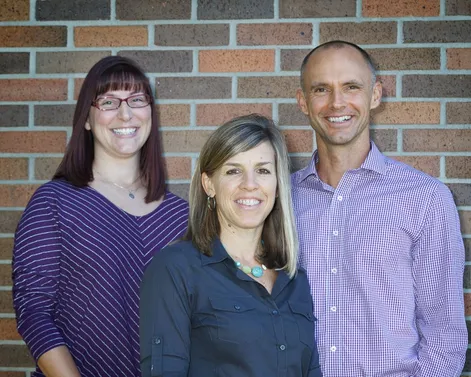 Pictured from left to right--
Susan Salee, Office Coordinator, Shelley Miskimen, Licensed Massage Therapist,
and Dr. Kent Miskimen
As a family chiropractic office, we understand that although our patients may be diagnosed with very simliar conditions, they may respond very differently to treatments. For this reason, we tailor a specific plan of action to meet your needs, goals & unique physical conditions. We are very active people ourselves, and are trained in many sports injury rehabilitation, correction, prevention protocols, as well as diet.

We are proud to have had the opportunity to help clients ranging from newborns to centurians achieve levels of health their families never thought possible.

Our products and services are generally described as integrative, alternative and holistic healthcare yet by any name our intent is our patients' well being and we combine both traditional medicine with alternative medicine to provide our patients with the treatment that best suits their needs.

River Valley Chiropractic has adopted the science and philosophy of functional medicine that includes the ongoing maintenance and improvement of the body's homeostasis through exercise, structural correction and when necessary conventional and alternative treatments needed to boost the immune system and combat disease.

We are dedicated to helping you achieve your wellness objectives -- combining skill and expertise that spans the entire chiropractic wellness spectrum. You can be assured of receiving only the finest quality care through the use of modern chiropractic equipment and technology. We offer GRASTON TECHNIQUE, decompression traction, cupping, soft tissue modalities, acupuncture and many more modalities to help you achieve maximum results.

Dr. Kent and Shelley as well as the staff have a genuine concern for your well-being! If you are new to our website, please feel free to discover and learn about chiropractic wellness. If you are interested in starting your journey towards wellness please subscribe to our newsletter. If you are already a newsletter subscriber, please explore the member wellness section of our website for wellness articles, resources, and health facts---specifically targeted by Dr. Miskimen to your wellness needs and interests.


319.261.1999

or email [email protected]